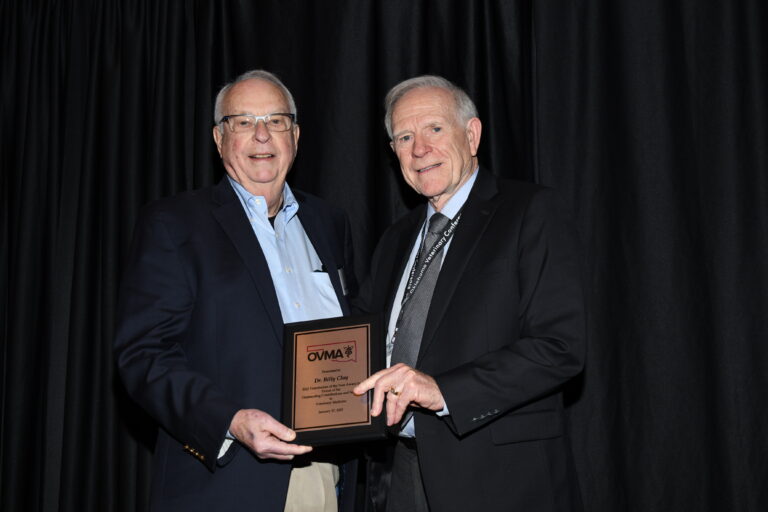 For Immediate Release – OKLAHOMA CITY, Okla. – The Oklahoma Veterinary Medical Association (OVMA) honored Dr. Billy Clay, board-certified toxicologist and former agronomy and toxicology instructor at the Oklahoma State University College of Veterinary Medicine, as the winner of the 2023 OVMA Veterinarian of the Year Award.
This award recognizes distinguished members of the OVMA who devote their time and leadership to their community, veterinary medicine, education, and research.
"I first met Dr. Clay when he was Chairman of the OVMA Legislative Committee," said Chuck Helwig, former OVMA executive director. "At that time, there were many critical legislative issues facing Oklahoma Veterinarians and we worked together to resolve those for OVMA.  I was also fortunate to witness Dr. Clay's outstanding leadership abilities, as he made his way through the chairs of the OVMA offices and went on to represent OVMA on several committees and councils in the American Veterinary Medical Association."
As Chairman of the OVMA Legislative Committee for 10 years, Dr. Clay worked with legislators and successfully passed legislation that affected Oklahoma Veterinarians. 
Dr. Clay received his DVM degree from OSU CVM in 1970, where he remains involved as the class of 1970 representative and an active giver to the OSU CVM foundation.
His expertise includes animal, plant, and soil interactions with an emphasis on water quality, nutritional and toxicological inter-relationships in animals, agricultural production focusing on plant and animal health, and pharmaceutical development and product support.
Dr. Clay currently serves on the Board of Directors at Spay First, an organization dedicated to reducing animal overpopulation.
He is a previous winner of the OVMA Distinguished Service Award and OVMA President's Award.
The Oklahoma Veterinary Medical Association is a professional trade organization for veterinarians dedicated to advancing the art and science of veterinary medicine, promoting high educational and ethical standards within the veterinary medical profession, promoting the health and welfare of the livestock industry of Oklahoma and protect and improve the health of all animals, and educating the public concerning animal health and its relationship to human health. To learn more about the association visit www.okvma.org