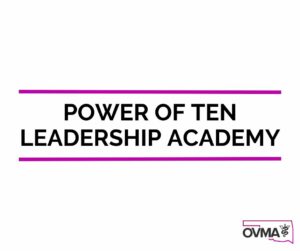 Are you a veterinarian that has graduated within the last ten years? Are you looking to create relationships with your peers and grow your skillset outside of veterinary medicine to further your career? Then the Power of Ten Leadership Program is for you!
Our goal is to encourage leadership in committed veterinarians as we advance the veterinary profession. The Power of Ten will choose 10 participants from the applicant pool to engage in a year-long program of learning experiences and mentoring sessions with peers. The program is designed to assist selected recent DVM graduates in navigating and thriving in their new professional environments.
Applications are due in the OVMA office by June 16, 2023
Click here for the application.
Completed applications can be emailed to [email protected] or mailed in to the office at:
13917 Quail Pointe Drive
Oklahoma City, OK 73134
The program will kick off with Insights Training on July 18, sponsored by Elanco, and will conclude at the 2024 Oklahoma Veterinary Conference.
Feel free to contact the OVMA office with any questions at [email protected] or 405-478-1002.